Electronic Devices E-Books



Author: L.M. Krugmans's
Laguage: English
Format: HTML


Description:

This eBook is based on the printed copy of L.M. Krugmans's "Fundamentals of Transistors" published in 1954. Although this book deals mostly with germanium transistors, the electronics remain the same. The book has been added to the VIAS ebook collection for its clear discussion of basic principles.
Transistor Basics


Paperback: 245 pages
Publisher: Newnes; 3 edition (Dec 12 2005)
Language: English
ISBN-10: 0750667567
ISBN-13: 978-075066756

Description

Introduction to Fiber Optics is well established as an introductory text for engineers, managers and students. It meets the needs of systems designers, installation engineers, electronic engineers and anyone else looking to gain a working knowledge of fiber optics with a minimum of maths. Review questions are included in the text to enable the reader to check their understanding as they work through the book.

The new edition of this successful book is now fully up to date with the new standards, latest technological developments and includes a new chapter on specifying optical components.

Whether you are looking for a complete self-study course in fiber optics, a concise reference text to dip into, or a readable introduction to this fast moving technology, this book has the solution.

* A practical, no-nonsense guide to fiber optics
* Up-to-date coverage that minimises mathematics
* New material on specifying optical components
Introduction to Fiber Optics

Op Amps for Everyone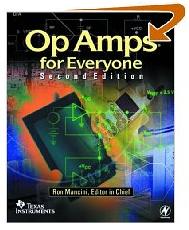 Paperback: 464 pages
Publisher: Newnes; 2 edition (March 2003)
Author : Ron Mancini
Language: English
ISBN-10: 0750677015
ISBN-13: 978-0750677011

Review
The book takes a different approach from the traditional textbook treatment of op amp theory in that the book is based on real-world op amps and their applications. There is also extensive coverage of circuit construction techniques, including circuit board design, grounding, input and output isolation, using decoupling capacitors, and frequency characteristics of passive components. The material in this book is applicable to op amp ICs from all manufacturers.

Book Description
Texas Instruments' complete professional-level tutorial and reference to op amps (operational amplifiers)

Schaum's Outline of Electronic Devices and Circuits
Paperback: 304 pages
Publisher: McGraw-Hill; 2 edition (June 5, 2002)
Language: English
ISBN-10: 0071362703
ISBN-13: 978-0071362702

Book Description

This updated version of its internationally popular predecessor provides and introductory problem-solved text for understanding fundamental concepts of electronic devices, their design, and their circuitry. Providing an interface with Pspice, the most widely used program in electronics, new key features include a new chapter presenting the basics of switched mode power supplies, thirty-one new examples, and twenty-three PS solved problems.

This section contains ebooks related to electronic devices necessory for an electrical/electronics engineer.Choose ur desired from the number of E-books.
Custom Search