Electromagnetics E Books
Paperback: 256 pages
Publisher: McGraw-Hill; 2 edition (October 1, 1994)
Language: English
ISBN-10: 0070212341
ISBN-13: 978-0070212343


This Schaum's Outline gives you

Practice problems with full explanations that reinforce knowledge
Coverage of the most up-to-date developments in your course field
In-depth review of practices and applications

Fully compatible with your classroom text, Schaum's highlights all the important facts you need to know. Use Schaum's to shorten your study time-and get your best test scores!

Schaum's Outlines-Problem Solved.
Electromagnetics [2E] - Joseph Edminister (Schaum's Outline)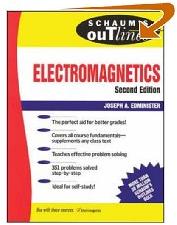 Electromagnetics Explained - A Handbook For Wireless And Rf, Emc And High-Speed Electronics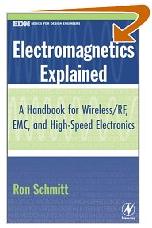 Hardcover: 359 pages
Publisher: Newnes; 1 edition (May 17, 2002)
Language: English
ISBN-10: 0750674032
ISBN-13: 978-0750674034

Book Discription:

The author pulled together a bunch of concepts in electromagnetics, and related them to real world problems. We found it a very refreshing (and useful) approach. Easy to read with lots of good stuff. - Kimmel & Gerke Associates' newsletter, EMI GURU

Despite the hi-tech sound of the topics covered, this book contains very little math, and approaches its topics mostly from an intuitive point of view. The author obviously understands his subject very well, and considers his job to be making that subject as easy to understand as possible in a brief survey of the field. He does that job well.
The Electromagnetic Field Theory Textbook
ISBN 0471859125 (1987).
John Wiley and Sons,


Book Description:

Written with the advanced undergraduate or graduate student in mind, Electromagnetic Field Theory is a textbook on the theory of electrodynamics, at roughly the same level as the well-known textbooks by Jackson and Panofsky&Phillips. The book is written mainly from a classical field theoretical point of view, emphasising fundamental and subtle properties of the EM field and includes a comprehensive appendix on the mathematical methods used. It treats relativistic covariance and the Lagrangian/Hamiltionan formulation of electromagnetic field theory, with an eye on modern ideas of duality and unification of theories, and includes a rigorous, comprehensive and detailed treatment of EM radiation phenomena and some elements of semiclassical quantum electrodynmaics. The book does not treat the elementary and technological aspects of electromagnetism to any significant degree since these matters are already covered in intermediate-level textbooks such as Roald K. Wangsness, Electromagnetic Fields.

Engineering Electromagnetics 6th Edition hayt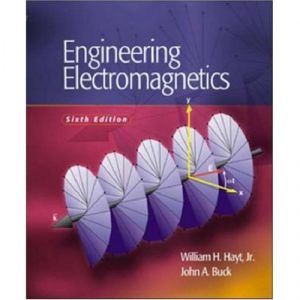 McGraw-Hill Science
ISBN: 0072551666
6th edition ((December 7, 2001)
597 pages | PDF | 8 MB

Book Discription:

"Engineering Electromagnetics" is a "classic" in Electrical Engineering textbook publishing. First published in 1958 it quickly became a standard and has been a best-selling book for over 4 decades. A new co-author from Georgia Tech has come aboard for the sixth edition to help update the book. Designed for introductory courses in electromagnetics or electromagnetic field theory at the junior-level and offered in departments of electrical engineering, the text is a widely respected, updated version that stresses fundamentals and problem solving and discusses the material in an understandable, readable way. As in the previous editions, the book retains the scope and emphasis that have made the book very successful while updating all the problems."
Introductory Electromagnetics Herbert-Preston-Neff
* Hardcover: 426 pages
* Publisher: John Wiley & Sons Inc (July 1990)
* Language: English
* ISBN-10: 0471605506
* ISBN-13: 978-0471605508

Book Discription:

This book contains all the necessoru topics needed for the basic electromagnetics such as vectors, Maxwells equations Electric and Megnatic field etc.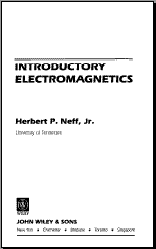 Fundamentals of Engineering Electromagnetics
Hardcover: 416 pages
Publisher: CRC (May 25, 2006)
Language: English
ISBN-10: 0849373603
ISBN-13: 978-0849373602


Book Description

Practicing engineers in diverse fields need to understand how principles can be applied to the solution of real problems. Bridging the gap between standard textbooks and specialized references, Fundamentals of Engineering Electromagnetics builds a foundation in electromagnetics for engineers who need a thorough overview of the subject. Coverage includes applied electrostatics, electromagnetic induction, wave propagation, transmission lines, waveguides and resonators, fundamentals and representative types of antennas, and electromagnetic compatibility. Appendices provide useful constants, units and conversions, and a review of vector analysis and coordinate systems.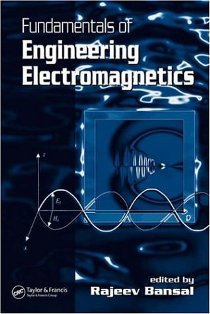 This section contains ebooks related to eectromagnetivs helpfull for an electrical/electronics engineer.Choose ur desired from the number of E-books.
Custom Search