Miscelleneous E-books
Comprehensive Dictionary of Electrical Engineering ,
Phillip A. Laplante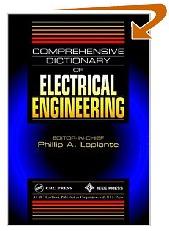 Hardcover: 720 pages
Publisher: CRC; 1 edition (December 23, 1998)
Language: English
ISBN-10: 0849331285
ISBN-13: 978-0849331282


Book Description

The Comprehensive Dictionary of Electrical Engineering is a complete lexicon covering all the fields of electrical engineering.Areas examined include:·applied electrical engineering·microwave engineering·control engineering·power engineering·digital systems engineering·device electronics·and much more!The book provides workable definitions for practicing engineers, serves as a reference and research tool for students, and offers practical information for scientists and engineers in other disciplines.


Schaum's Outline of Signals and Systems
Paperback: 352 pages
Publisher: McGraw-Hill; 1 edition (March 1, 1995)
Language: English
ISBN-10: 0070306419
ISBN-13: 978-0070306417

Book Info

Includes basic theory, definitions, and hundreds of example problems solved in step-by-step detail and supplementary problems with answers. Paper. DLC: Signal theory (Telecommunication)

This Schaum's Outline gives you

Practice problems with full explanations that reinforce knowledge Coverage of the most up-to-date developments in your course field In-depth review of practices and applications

Circuit Analysis Demystified - David McMohan
Paperback: 288 pages
Publisher: McGraw-Hill Professional; 1 edition (November 5, 2007)
Language: English
ISBN-10: 0071488987
ISBN-13: 978-0071488983

Product Description

Need to learn circuit analysis but experiencing some resistance in your brain waves? No stress! Circuit Analysis Demystified will give you the jolt you need to understand this complex subject--without getting your circuits crossed.
In the first part of the book, you'll learn the fundamentals such as voltage and current theorems, Thevenin and Norton's theorems, op amp circuits, capacitance and inductance, and phasor analysis of circuits. Then you'll move on to more advanced topics including Laplace transforms, three-phase circuits, filters, Bode plots, and characterization of circuit stability. Featuring end-of-chapter quizzes and a final exam, this book will have you in a steady state when it comes to circuit analysis in no time at all.
This fast and easy guide offers:
Numerous figures to illustrate key concepts
Sample equations with worked solutions
Coverage of Kirchhoff's laws, the superposition theorem, Millman's theorem, and delta-wye transformations
Quizzes at the end of each chapter to reinforce learning
A time-saving approach to performing better on an exam or at work
Simple enough for a beginner, but challenging enough for an advanced student, Circuit Analysis Demystified will transform you into a master of this essential engineering subject.

This section contains basic ebooks helpfull for an electrical/electronics engineer.Choose ur desired from the number of E-books.

Custom Search