Guide to Electrical Power Distribution Systems, Sixth Edition
Power and Industrial Ebooks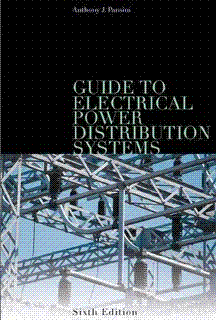 Hardcover: 264 pages
Publisher: CRC; 6 edition (June 3, 2005)
Language: English
ISBN-10: 084933666X
ISBN-13: 978-0849336669

Product Description:

Written by a highly regarded power industry expert, this comprehensive manual covers in full detail all aspects of electric power distribution systems, both as they exist today and as they are evolving toward the future. A new chapter examines the impact of the emergence of cogeneration and distributed generation on the power distribution network. Topics include an overview of the process of electricity transmission and distribution, a thorough discussion of each component of the system - conductor supports, insulators and conductors, line equipment, substations, distribution circuits and more - as well as both overhead and underground construction considerations. Improvements in both materials and methods of power distribution are also explored, including the trend toward gradual replacement of heavier porcelain insulators with lighter polymer ones. The complex aspects of electric power distribution are explained in easy-to-understand, non-technical language.

Handbook of Electric Power Calculations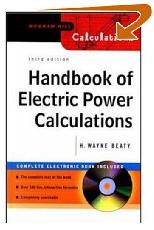 Hardcover: 608 pages
Publisher: McGraw-Hill Professional; 3 edition (September 27, 2000)
Language: English
ISBN-10: 0071362983
ISBN-13: 978-0071362986


Book Description:

A bestselling calculations handbook that offers electric power engineers and technicians essential, step-by-step procedures for solving a wide array of electric power problems. This edition introduces a complete electronic book on CD-ROM with over 100 live calculations--90% of the book's calculations. Updated to reflect the new National Electric Code advances in transformer and motors; and the new system design and operating procedures in the electric utility industry prompted by deregulatio

High Voltage Engineering Fundamentals (Newnes)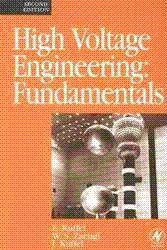 Paperback: 539 pages
Publisher: Newnes; 2 edition (July 17, 2000)
Language: English
ISBN-10: 0750636343
ISBN-13: 978-0750636346

Description:

Power transfer for large systems depends on high system voltages. The basics of high voltage laboratory techniques and phenomena, together with the principles governing the design of high voltage insulation, are covered in this book for students, utility engineers, designers and operators of high voltage equipment.

In this new edition the text has been entirely revised to reflect current practice. Major changes include coverage of the latest instrumentation, the use of electronegative gases such as sulfur hexafluoride, modern diagnostic techniques, and high voltage testing procedures with statistical approaches.

A classic text on high voltage engineering
Entirely revised to bring you up-to-date with current practice
Benefit from expanded sections on testing and diagnostic techniques


Industrial Electronics for Engineers, Chemists, and Technicians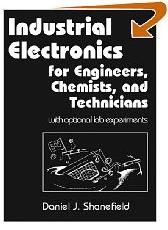 Hardcover: 301 pages
Publisher: Noyes Publications (November 15, 2000)
Language: English
ISBN-10: 0815514670
ISBN-13: 978-0815514671

Book Description:

Turn to this multipurpose reference for a practical understanding of electronics in the factory or laboratory. It's perfect for people who are not electrical engineers but who need to use electronic equipment every day at work. Avoid or solve common problems in the use of electronics in the factory or lab and optimize the use of measurement and control equipment with this helpful resource!

The guide is easy to understand by anyone who has taken a high school physics course--yet it provides quick, specific solutions for such electronics issues as feedback oscillation, ground loops, impedance mismatch, noise pickup, and optimization of PID controllers.

Use INDUSTRIAL ELECTRONICS as a hands-on resource to handle typical electronics questions as they arise, as a self-study text to provide a broad background for understanding general electronics issues and design, or even for an instructor-led, on-the-job training course in shop or lab electronics. Because of the highly detailed explanations in the book, instructors themselves do not need to be experts. Of course, the volume is perfect for use as a textbook in college and vocational school courses.

The laboratory experiments are optional and may be used merely as examples. Components are inexpensive and can be obtained from consumer electronics stores such as Radio Shack or from electronics suppliers on the Web. The circuit diagrams are greatly simplified and completely understandable, with every component explained.

Key Features:

- Explains how capacitors, inductors, relays, self-starting ac motors, transistors, and integrated circuits actually work

- Shows how to prevent or fix ground loops, feedback oscillations, noise pickup, and impedance mismatch

- Teaches readers how to design simple, special-purpose circuits such as amplifiers, latching registers, oscillators, and SCR controllers

- Provides an understanding of more complex devices including laser printers, copying machines, and analog and digital systems

This section contains ebooks related to power electronics, necessory for an electrical/electronics engineer.Choose ur desired from the number of E-books.

Custom Search