Practical Electronic E-books

Paperback: 480 pages
Publisher: Newnes; 6 edition (January 11, 2007)
Language: English
ISBN-10: 0750680717
ISBN-13: 978-0750680714

Book Description
An essential companion to practical electronics work for enthusiasts, students and engineers.
Ian Sinclair's Practical Electronics Handbook combines a wealth useful day-to-day electronics information, concise explanations and practical guidance in this essential companion to anyone involved in electronics design and construction. The compact collection of key data, fundamental principles and circuit design basics provides an ideal reference for a wide range of students, enthusiasts, technicians and practitioners of electronics who have progressed beyond the basics.
The sixth edition is updated throughout with new material on microcontrollers and computer assistance, and a new chapter on digital signal processing

· Invaluable handbook and reference for hobbyists, students and technicians
· Essential day-to-day electronics information, clear explanations and practical guidance in one compact volume
· Assumes some previous electronics knowledge but coverage to interest beginners and professionals alike

Practical Electronics Handbook, Sixth Edition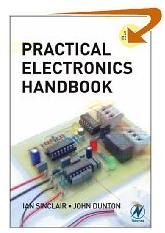 Understanding Circuits: Learning Problem Solving Using
Circuit Analysis

Paperback: 140 pages
Publisher: Morgan & Claypool Publishers (June 6, 2005)
Language: English
ISBN-10: 1598290029
ISBN-13: 978-1598290028
Author: Khalid Sayood

Book Description:

This lecture is intended for anyone who wants a thorough introduction and an intuitive approach to problem solving where the particular problems deal with electrical and electronic circuits. The basic problem solving paradigm used in this book is that of resolution of a problem into its component parts. The reader learns how to take circuits of varying levels of complexity using this paradigm. The problem solving exercises also familiarize the reader with a number of different circuit components including resistors, capacitors, diodes, transistors and operational amplifiers and their use in practical circuits. The reader should come away with both an understanding of how to approach complex problems and a "feel" for electrical and electronic circuits.

This section contains prctical ebooks necessory for an electrical/electronics engineer.Choose ur desired from the number of E-books.keep visiting this section, This section will be updated soon.
Custom Search